Family Learning Practitioners
This page contains links to resources which will hopefully be useful for family learning practitioners, tutors, headteachers and anyone involved with family learning.
If you are interested in becoming a family learning tutor, contact your local college of further education to ask about initial teaching and Skills for Life qualifications. Many colleges can arrange placements so that you can gain teaching experience while you study. Another route would be to contact your local authority, as some local authorities provide family learning courses using their own tutors.
Financial Literacy Resources
Newcastle City Council Family Learning Service have produced this very useful resource for NIACE to support financial literacy within a family learning context. It is free to download and includes six session plans with activities for adults and children. Activities are referenced to Skills for Life curricula, mainly at Entry 3 and Level 1. One of the excellent activities (which could also be used as part of a family health course) requires the books Oliver's Vegetables, Oliver's Fruit Salad and Oliver's Milkshake by Vivian French (illustrated by Alison Bartlett), which can be ordered at the bottom of this page.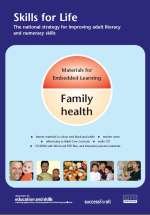 Skills for Life embedded materials for Family Learning
This link will take you to a free online version of the Skills for Life embedded learning resources. To find a specific pack, click the dropdown menu for "Setting" and choose Family Health, Family Life: The Growing Child or Family Life: Focus on Parenting. You can leave the Keyword box blank, then click search. Each module is available as a separate PDF download.

UK practitioners can also request a free hard copy of the resources here.
Surrey County Council
Surrey County Council have a range of family learning resource packs with great ideas for sessions and activities for Key Stage 1, 2 and 3.
Campaign for Learning - Family Learning Week Resources
An A to Z list of resources for parent/child activities, which would be great for Family Learning Week or could be incorporated into other family learning sessions.
Centre for Sustainable Energy
A sample of the resources can be downloaded free. You can choose to register (also free) to receive the full pack. Useful activity ideas and resources for helping families to learn about sustainable energy, including reading metres to check their electricity consumption, making a draught excluder and much more.
Wirral Numeracy Games
Lots of super ideas for numeracy games which children and parents can make and play together.
Oliver Books on Amazon
The following books are required for one of the sessions in the Newcastle City Council Financial Literacy resource shown at the top of this page.